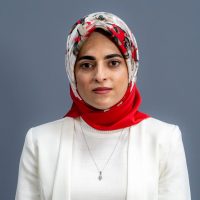 Mizhda Adil
Instructor
Mizhda Adil is a TESOL-certified ELT instructor at the Center of Intensive English Program
(CIEP) at KUST. Mizhda has also been the academic supervisor and team leader of different
entertainment and academic events and activities. She has 4+ years of experience teaching
different levels and ages with love and passion. Her educational philosophy is to create an
authentic, good rapport with students to enable them to open the doors for teaching. At KUST,
Mizhda is known as the smiley, positive teacher who is a powerful force in the workplace and
uses her positive attitude and tireless energy to encourage others to work hard and succeed.
Mizhda is inspired daily by her dad who always motivates and supports her. In her free time,
Mizhda likes eating, hiking, and engaging in social activities with family and friends.