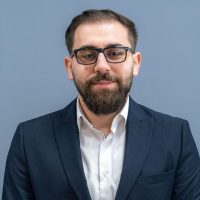 Bishwan Kamaran
Instructor
I am a B.A. holder in English Language and Literature and I am Global TEFL /TESOL certified.
My passion for movies was the trigger for my interest in the English language and that got me
into studying English Language and Literature.
I am always eager to learn about other cultures and little places in the world that not many people
know about. I am now interested in applied linguistics and I enjoy history, psychology, and
reading.
My four years of experience in the field of translation, working for international film festivals
and channels led me into the field of journalism. I have been serving as an English language
instructor and course supervisor for language centers and institutions for the past three years.
What I always try to focus on in my classes at the Center of Intensive English Program (CIEP) is
to have my students think critically and be active participants in the process of learning and
improving their English. I love seeing the students' progress which motivates me even more as
an instructor.