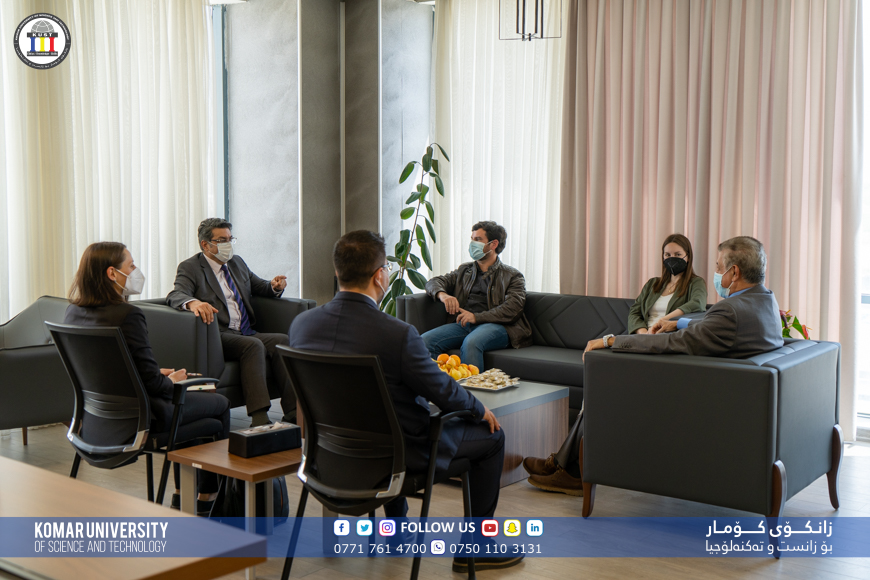 A delegation from Autonomous University of Madrid visited Komar University of Science and Technology
On Thursday April 2nd 2021; the President of KUST, Prof. Dr. Salahalddin Saeed Ali, and the vice-President for Scientific Affairs and International Relations, Prof. Dr. Kawis Aziz received a delegation from Autonomous University of Madrid headed by Fernando Camacho.
At the beginning of the meeting, the respected president of the Komar university gave a speech. In his speech, he highlighted the history and foundation of Komar University, the stages of its development, the administrative structure, the mission and the vision of the university, the system, and the teaching style program in Komar University.
During the meeting the ways of joint cooperation between the two universities were discussed, both sides emphasized establishing further collaborations between the two universities.
At the end of the meeting, a tour was organized for the delegation around KUST to visit the major units and different departments. The guests expressed their admiration for the university's strong infrastructure in terms of the quality of the laboratories and the ideal study environment.